Keeping the Creativity Going After COVID
Most business owners (and customers) can agree that the impact of COVID-19 was a challenging and difficult time for all involved. In the beginning, no one knew much, we were all being careful, and mitigation measures were put in place beyond our control.

So then what? The world felt like it was coming to a halt, but bills certainly weren't going to. The show had to go on somehow.
This was especially challenging for small businesses whose owners and managers had to figure it out on their own. There was no directive coming down from "corporate" – and no help either.
But many small business owners put on their thinking caps and displayed that entrepreneurial spirit that got them to the point of owning a small business in the first place. How can we still move product to our customers when they can't come into the business? What can we do to help everybody through this and build relationships while we're at it?
Locally, some of our clients, both current and previous, showed just that type of ingenuity through creative opportunities that allowed not only current customers to continue enjoying their products, but also the cultivation of new customer relationships.
Three Tree Coffee mobilized their portable coffee trolley to local neighborhoods and partnered with a janitorial business to take orders for the hot commodity of the time – toilet paper. Neighbors could safely gather outside to meet the trolley for much-needed caffeine and TP. It was a win-win.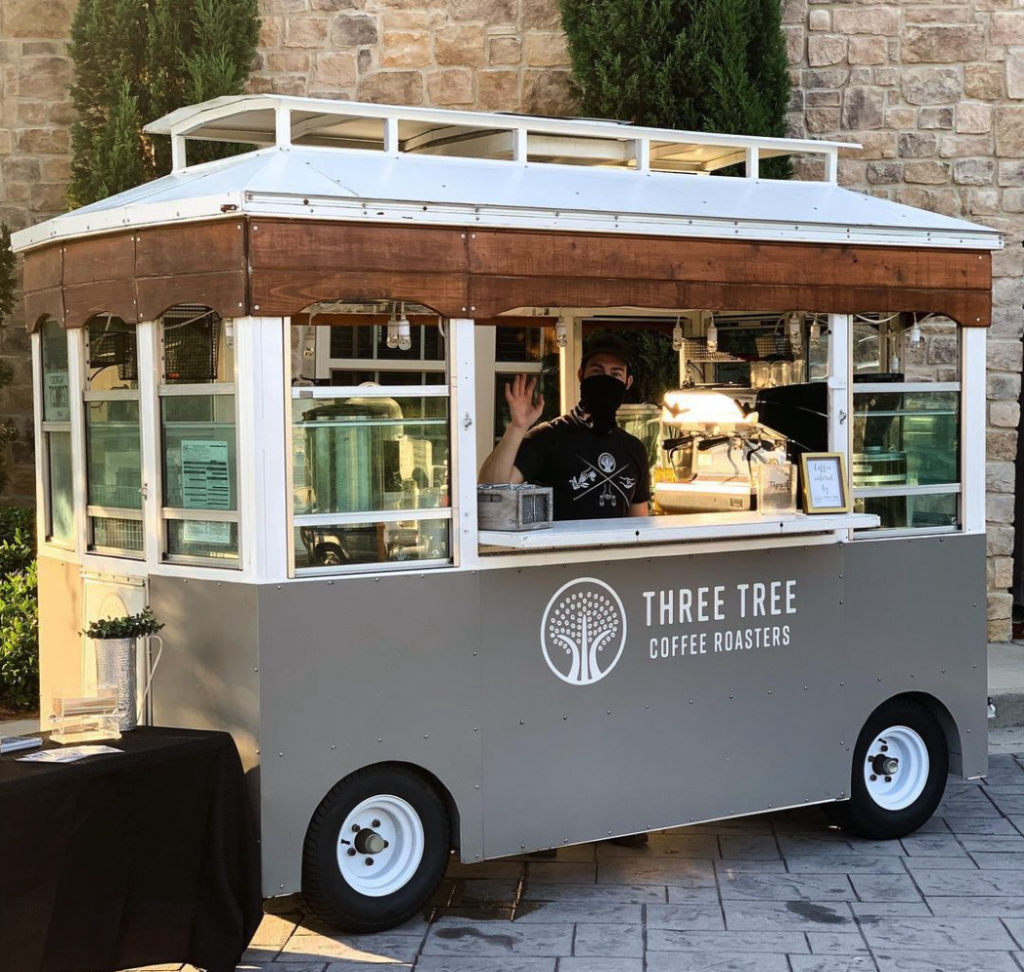 A little bit further into the COVID experience, Soyumi Asian Kitchen provided people with something else they really needed: Cocktails. They created ready-to-go kits including the tools, specialty ingredients, and instructions to make their beloved craft cocktails at home. Their bartenders held virtual instructional happy hours and made videos to assist with the home mixology. Customers couldn't come and sit at the bar for the drinks they loved, but they could still enjoy a creative cocktail, socialize with friends, and learn a little something in the process. Another all-around win.
Of course, pickup/delivery services like DoorDash, GrubHub, and Boro Takeout also became essential during this time for getting food out the door to people when they couldn't come in. Several restaurants amped up their to-go menu offerings or changed them entirely.
Outside of the restaurant industry, boutiques also offered free curbside pickup and delivery with local delivery to keep customers shopping safely. (They also began offering more loungewear for all that time spent at home – genius!) Live sales on Facebook or Instagram allowed customers to get a better feel for the clothes offered, providing a virtual "try-on" of sorts.
Virtual events became "a thing" in general, and while they can't replace good old face-to-face interaction, they were better than nothing at the time and have continued on as an option in a lot of circumstances.
Social Media Saves the Day
An essential component of developing and promoting all these ideas was, not surprisingly, social media. It was already a huge part of most customers' lives by that point, but suddenly it became one of the only ways for people to safely gather and connect with each other. And it was one of the best ways for small businesses to keep things going.
Especially during COVID-19, social media allowed businesses to grow their connection with customers while also connecting with new customers they weren't reaching previously. Connection is key, and social media is a great way for businesses to reach a wide, diverse audience.
According to Ignite Marketing, some of the pros surrounding small businesses using social media include more sales, larger audiences, better ranking in search engines, and faster communication with customers. As with anything, though, there are some cons. For example, it might take a while to see an ROI, there's a risk of viral negative publicity, and gaining an understanding of the platforms can be tricky.  
At the same time, many small businesses had no form of active social media when the pandemic hit. Or even if they did have it, many didn't have a plan for how to truly use it to their advantage. Even though social media has been "it" for a while, this was a huge wake-up call for small businesses, and most had to rapidly adapt to social media in order to stay afloat during the pandemic.
Fortunately, Peppr is here to help you maximize those benefits and minimize the risks involved in using social media to market your business. We have the expertise so you don't have to! We can show you the social media ropes and set your business up for success. Social media is truly here to stay and will only get more important as time goes on.
Social media is a constantly changing landscape, and there is always something new to learn. Staying on top of the trends in technology, marketing, and social media – while all is relatively calm in your business world – is key.
So in addition to handling the setup of your social media, Peppr can also be a key player in your strategic planning and messaging on those platforms. One thing that can help a business maintain continuity after an unexpected event is planning and scheduling. When an unexpected event happens, you will have a little wiggle room with your pre-planned content before you really have to worry! 
This will help give you time to adjust and adapt, while still pushing out that content. (Of course, you want to double-check that nothing in your content is sensitive to the unexpected event that has taken place! We all know a company that has had to put its proverbial foot in its mouth after releasing the very wrong thing at the very worst time…)  
At Peppr, we like to plan all of our client's social media content ahead of schedule, and we are always looking out and doing what we call environmental scanning. This helps us see what might be on the horizon and prepare ahead of time. These strategies give us and our clients that wiggle room to adjust and adapt to those unexpected events, as well as to maintain consistent branding and messaging even during typical times.
Expect the Unexpected and Expect to be Creative
So if those "COVID times" taught us anything, it's probably to expect the unexpected. Prepare for the worst. And then get creative!
There's no reason to wait for the next worst thing to come along before considering how you can better connect with your audience in unique and more accessible ways. The more accessible you can be and the more people you can reach, the better! The landscape for how we interact has shifted in many ways post-COVID, but creativity can (and should!) continue.